Retirement Plan Consultants (RPC) is not just retirement planning. Our company goes the extra mile to ensure that participants, plan sponsors and financial advisors receive quality customer service. According to ArenaCX, statics show that 69% of customers have stopped doing business with a brand due to negative customer service experiences. Whether you have questions about a specific service or about your current plan, we have the answers.
Real people, not robots
At RPC, we take pride in our exceptional client service team, ready to assist you during business hours with any inquiries you may have. Our single point of contact approach revolutionizes the retirement planning experience, ensuring that you receive prompt and efficient support. On average, our clients experience an impressive wait time of just 25 seconds when reaching out to our service team, while our competitors' clients often endure 5 minutes or more before connecting with a representative. We value your time and strive to deliver unparalleled responsiveness.
We believe in empowering our plan sponsors and participants with comprehensive knowledge about their retirement plans. That's why we offer a range of tools and educational resources designed to facilitate understanding, including enrollment assistance. Step-by-step videos are readily available to guide plan participants and sponsors through the enrollment process, providing clarity and confidence. Furthermore, our dedicated client service team is always available to address any additional questions you may have, ensuring a smooth and seamless experience.
In addition, our resource centers serve as valuable hubs of information. Here, you'll find an array of tools to support your retirement planning journey, including retirement planning calculators, an investment term glossary, and comprehensive website guides. These resource centers are dedicated to equipping both plan sponsors and participants with the necessary resources to make informed decisions and achieve their retirement goals. Explore the plan sponsor and participant resource center today and unlock a wealth of valuable information.
Our Client Service Team
Check out the friendly faces on our client service team!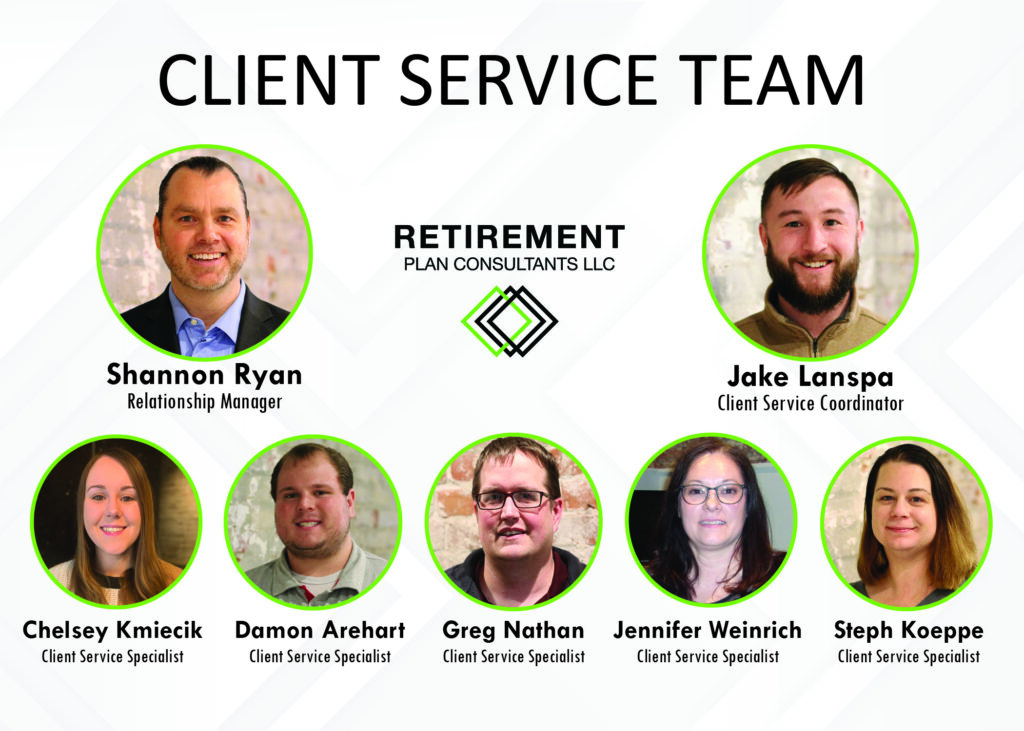 Services that offer solutions
Communication can often be a challenging and time-consuming aspect when working with TPAs or Recordkeepers for advisors and plan sponsors. At RPC, we simplify this process by acting as a comprehensive solution that serves clients as recordkeepers, TPA partners, advisor partners, and independent fiduciaries. By consolidating these roles, we streamline communication channels, saving you valuable time and effort while ensuring a seamless experience.
In the realm of retirement plans, compliance is of utmost importance. We recognize the significance of adhering to regulatory requirements and maintaining the highest standards. That's why our in-house fiduciary partners, Wealth Management, play a vital role in ensuring all compliance obligations are met. They work closely with companies to navigate the intricate landscape of regulations, while also managing investments in a manner that prioritizes the best interests of our clients. With RPC, you can have peace of mind knowing that your retirement plans are in capable hands, guided by a dedicated team that upholds compliance at every step.
By entrusting RPC as your comprehensive solution, you gain the advantage of streamlined communication, consolidated services, and a dedicated team of fiduciary experts. Together, we navigate the complexities of compliance, ensuring that your retirement plans not only meet regulatory standards but also align with the best interests of your clients.
At Retirement Plan Consultants, we are committed to delivering outstanding customer service, empowering you with the tools and resources you need to navigate your retirement plans with confidence. Experience the RPC advantage and join the ranks of satisfied clients who benefit from our exceptional single point of contact approach and access to valuable educational resources. For more information, contact our sales team here.